Whether you are looking for Obedience Training Classes, Behavioural Advice, a Dog Walking Service or simply someone to care for your dog whilst you are away on holiday, we are certain to be able to help.
Every day there are more and more Dog Training/ Walking companies opening their doors for business without experienced or qualified staff. At Jenkins Canine Services, we know just how important your dog is to you. All our services are run by a qualified Canine Behavioural Advisor and Trainer, with over fifteen years' experience working with dogs.
We pride ourselves in offering a very professional, reliable and friendly service where your dog's welfare is our number one priority. We have a team of dedicated and experienced individuals, which enables us to offer you a full range of services tailored to the individual needs of your dog.
Whatever service it is that you require, a member of our team will be glad to discuss the options with you, so please do not hesitate to contact us.
Here is just one example of our many testimonials, from clients past and present. Please see our testimonials page for more…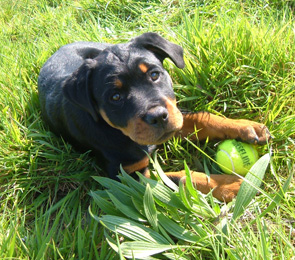 "We have two miniature schnauzers, they are both great characters and are cherished pets (Truffles & Rocket). Our youngest dog Rocket has always shown fear towards other dogs, Sarah and her team has changed Rockets ability to enjoy life!

Since attending Jenkins Canine Services' classes we have been able to let Rocket socialise with other dogs and enjoy walks with our dogs. Sarah has taught us so much, whilst having fun; I think the owners have just as much fun as the dog!

The real testimonial is that the fact both dogs love Sarah and the team, and are so excited when we attend training or they get picked up for their fun day on the school bus!

The school bus is great for Truffles and Rocket, they socialise with other dogs and we can go to work knowing they are in the safe hands of Sarah and her outstanding team. There are no other people we would trust our dogs with, and we know the team are all so caring and dedicated. Jenkins Canine Services are not just another dog walking company; they work on training the dogs for a happier dog and owner!

What we love about Jenkins Canine Services is that you never feel embarrassed about your naughty dog, because Sarah is understanding and patient, she works with every owner and offers individual advice, and you can really see the benefits!

We would recommend Jenkins Canine Services to all dog owners, as we have great fun with like-minded people and the dogs and the owners learn so much!"

Hannah, James, Truffles and Rocket
Contact us now and find out for yourselves.