Katie-Jane & Archie Hardy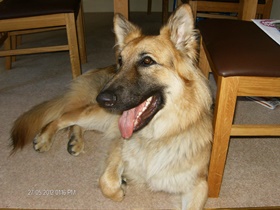 Anyone who knows me, knows how much Archie means to me and having already had a not so good experience with a 'dog day care' company, it would be fair to say that I was somewhat sceptical about entrusting Archie to anyone again. However after reading about the school bus on Sarah's website and then the testimonials, i contacted Sarah and she came to visit Archie and myself at my home. Her professionalism and experience was immediately apparent and she completely understood my concerns and by the time she left i was completely reassured. A couple of days later Archie went out on the bus on a trial afternoon and absolutely loved it!!! Archie now goes very happily on the bus one to two days a week and he even knows the days he is going as he sits by the front door and waits to be collected!! The bus helps him with his confidence, also socialising with other dogs and people and also that he has more in his life than just me..

I also know that if Archie was not enjoying it or if there were any issues, Sarah would tell me and would suggest other options etc.. and that is what really matters to me because I have total trust in Sarah and her and team. I cannot emphasise enough how accommodating and helpful Sarah and her team are even at very short notice due to the hours I work. Nothing is too much trouble and I count myself very fortunate to have found Jenkins Canine Services
Lauren, Littleman & Maddie Reid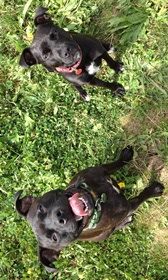 I first contacted Jenkins Canine Services a few years ago when I needed help from canine behaviourist Sarah. My dogs then started to use the 'school bus' and have been regularly using it ever since ( as well as their agility and training classes)! As a head nurse of a local vets, I practice a high standard of care and expect the same level of care from others in the animal sector and I have certinally found this to be true in every aspect of Jenkins Canine Services.

Professional, friendly, tailored for each individual dog and owner alike, great value for money, Jenkins Canine Services are the best by far, I always recommend to my clients at the vets and the dogs approve as well!
Denise, Elly & Rambo Gibson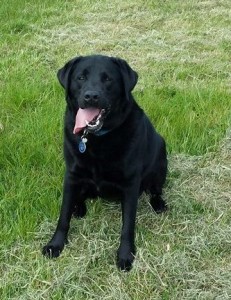 Rambo is a lively and lovable three year old Labrador who lives up to his name. Leading busy lives we were anxious that our furry boy could be exercised and receive the stimulation he needs. Moving into the area about sixteen months ago we tried a couple of walkers but to be honest it was obvious they were not really interested in his welfare and were basically only interested in a quick bit of cash. Rambo became as destructive as when he was a puppy and bounced off the walls!

But then I discovered Sarah and Jenkins Canine Services and since then Rambo has been entirely different. It is obvious that Sarah and her team care about him and he loves them too! We know he is being cared for and feel completely confident leaving him in her care. Sometimes I think he would rather just be on the bus with his friends than back at home! Now two years on it's great to have such peace of mind.
Tracy Twitchett & Misty and Foggy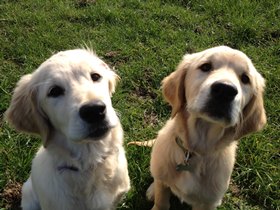 Being IT contractors we have to travel to where the work is and for the last few years have been commuting to London from Birchington several days a week. Just before Christmas we seriously debated whether or not it would be fair to have a dog given our circumstances but decided that we would be able to offer enough love and excitement on the days that we were at home and so ended up with two bundles of fun in the form of two golden retriever puppies! Meet Misty and Foggy!!

Jenkins Canine Services, in particular ('Aunty') Sarah have been invaluable from the start. We started with a home visit from Sarah who offered us excellent advice on how to cope with the early days of house training and getting them used to us and their new environment. As soon as initial inoculations were over a place was found for them on the school bus which not only gave us peace of mind during the days we were away in London but also provided Misty and Foggy with lots of extra socialisation and recall training. Now at nine months old they still happily go off on the bus a couple of times a week. Not only is it excellent value for money, Sarah has also rescheduled the diary on many occasion to fit them in at short notice and has recently gone further to provide extra care on days when it has been exceptionally hot or if we were due to be home later than normal.

Not content with just this we are also signed up to training classes that Jenkins Canine Services run at weekends and have already successfully mastered the puppy foundation course and are part way through the bronze course. To us, the courses are more than just a certificate and a talking point at dinner parties, they are a way of ensuring that you and your dog are taught the difference between right and wrong for safety and wellbeing whilst at the same time having fun in the play sessions and pack walks (a particular favourite!).

Overall I wouldn't hesitate in recommending Sarah and Jenkins Canine Services, her whole team are friendly, professional and always helpful with good advice and suggestions. Misty and Foggy are growing up into fine young dogs (although we're probably slightly biased!), who certainly aren't without the odd cheeky moment but all in all make our lives happy and complete and for that we have a lot to thank Sarah and her team for.
Helen Richardson & Manny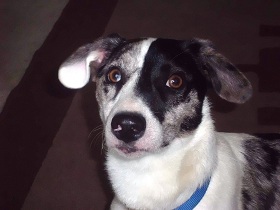 I cannot recommend Jenkins Canine Services highly enough. Not only are they reliable, friendly and professional, but they really know their dogs. Sarah picked up on Manny's (our jack russell/collie) temperament within seconds and worked with him to build his confidence on the days he went on the School Bus. It was great to be able to go to work without having to worry about the level of care Manny was receiving.

The service was flexible and good value for money. I'm sure there are many other pet services out there that can just look after your dog for the day, but if you want someone who will use their extensive knowledge and really care about your dogs development, then Sarah and the rest of her team are the best about
Jacquie Ward & Smudge and Lily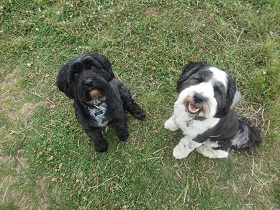 Smudge and Lily have known Sarah for two years now and they adore their School Bus trips once a week (more if they could get it!!!). They have become very sociable and friendly dogs due to the wonderful service that Sarah provides.

She will always try and help out (at sometimes very short notice) to take Smudge and Lily along for an extra day. I believe that especially for my oldest dog, Smudge, who is now five years old, it has helped him become more confident and as he was for a long time very fretful. Lily has also enjoyed puppy classes with Sarah which helped me just as much as Lily.

I would highly recommend the exceptional, friendly and professional service Sarah provides us as a whole family, not just the dogs!!
Sue, Caroline & Eddie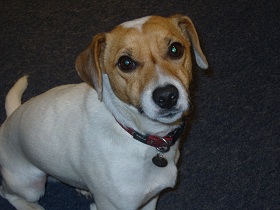 Eddie is a typical Jack Russell – say no more!! He was abandoned twice before this little dog came to us with his massive attitude aged one year.

Since using Jenkins Canine Services once a week with the school bus service, we've noticed a great improvement in Eddie's attitude towards other bigger dogs. Nervous at first, he quickly became eager to go with the staff and always comes back shattered and happy. This weekly routine has helped us when we mix him with other dogs……

….. Jenkins Canine Services is an important (and essential) part of ours, & of course, Eddie's life!

Thank you to all who work with him.
Sandra Wiltshire & Jess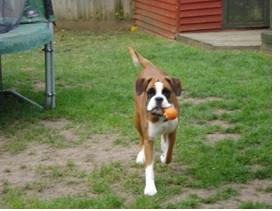 I got Jess at 8 weeks old. We had managed to achieve the Puppy Foundation course with another trainer, however when commencing the Bronze course things changed into a nightmare!! Every lesson was a constant battle and I began to feel deflated as an owner, Jess was uncontrollable at all training sessions and certainly not a happy Boxer. We got to the point that I couldn't let her off the lead as she was a nightmare to retrieve.

Lucky for us, a fellow Boxer owner locally suggested Sarah, as she had done wonders with there dogs.

Since joining Sarah's classes and Jess has been going on the Walking Bus, I have a new improved Happy Bouncy Boxer. Her behaviour when off lead has dramatically improved and we achieved the Bronze Course with less aggression and defiance from Jess.

Jess is more relaxed and is currently enjoying the agility course, though I'm not so sure about me as I have trouble keeping up at times but enjoyable in the relaxed atmosphere amongst other owners. I am now confident that we can continue onto the Silver which is something I would not have even thought possible in the past.

My confidence and control of Jess has increased immensely with the assistance of Sarah's team.

The result has been an overwhelmed Owner, Happy Jess with thanks to Jenkins Canine Services where every dog certainly matters.
Ann Andrews & Fred and Fudge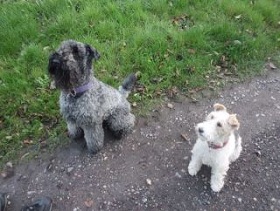 We have two dogs – Fred (Kerry Blue Terrier 4 ½ years old) and Fudge (Fox Terrier – 2 ½ years old) – Sarah Jenkins (or "Auntie Sarah" as the dogs and we now know her) is probably their favourite person on the planet!! She has managed to train both of them at her well run but fun Kennel Club Accredited Behaviour Classses to Silver standard (no mean feat in either case!) and has also made me a more confident and capable dog owner (an even greater feat!)

In addition, since they were puppies, both dogs have had the fortune of the weekly day out on the "School Bus". They are so well socialised with their doggy companions and enjoy a day of walks in new places but completely supervised and safe. This service is a life saver for me as I have a day to do all the things I need without the constraints of dog responsibilities, which in Freds case is a 24 hour a day one.

I have recommended Sarah to several of my friends and without exception they are as delighted with the service as I am. I cannot recommend Jenkins Canine Services highly enough – Sarah and her equally competent and dog loving staff are fantastic. Whether you have a new puppy, a rescue dog, an older dog or just need some help with caring and coping with the huge responsibility of being a "doggy parent" give her a call. It'll be the best thing for you and your dog you ever do!
Stewart and Carole Neame & Poppy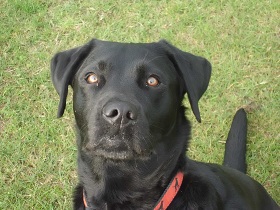 Poppy is a very nervous four year old Labrador.

Poppy goes on the School Bus with Sarah every week and thoroughly enjoys it and looks forward to her outing. It has increased her confidence enormously and has enabled her to interact with a variety of other dogs in a way that she couldn't at home.

Sarah herself is an extremely professional person and is a delight to do business with.

We were lucky to find her and Poppy loves her to bits!
Doreen Collins & Bertie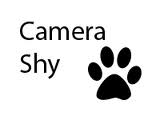 Sarah is wonderful. She collects our cockapoo, Bertie, from our house with her School Bus, and will look after him for the day so that he can have lovely runs with all the other dogs – which he loves. It gives us some degree of freedom as, even though we love our dogs, we all need a break once in a while. And it is lovely that the dogs have such a good time together under expert guidance.

He really loves Sarah and doesn't even give us a backward glance when she takes him out – but at the same time, is extremely excited when he returns home. So the dogs and we have the best of both worlds.

We would recommend Jenkins Canine Services to anyone; it is so lovely for us to have peace of mind when we are not around, knowing that our dog is extremely well looked after.
Phillip Elliot & George and Cassius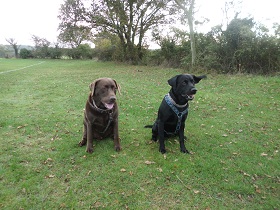 It is probably fair to say that my 2 "boys" are the most important thing in my life (next to the wife, of course) and I would not trust their care to anyone who I was not utterly convinced would treat them as well as I do.

The boys have been going out on the fun bus with Sarah and her team for over a year now. They love it. They absolutely love it! They bounce around like lunatics waiting for the bus to arrive…… and when they get back home, all they want to do is eat and sleep.

I cannot recommend Jenkins Canine Services highly enough; if you really love your pooch, book him in! Today!

A hugely satisfied, and enormously grateful customer.
Lucy Mannering & Biscuit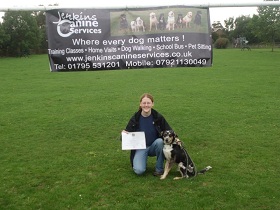 I started classes after only having my 5 month collie cross for a week and without having the training, I don't think I would have such a friendly, well socialised pet. Biscuit is always excited when we turn up to the training classes because she enjoys the friendly atmosphere – and obviously learning to behave herself!

All of the dogs (and their owners) get on and Sarah is always on hand to give advice if there are any behaviour issues back at home. I've felt very comfortable with Sarah's instruction and do not hesitate to give her a call as I know Biscuit will be in very capable hands.
Keith, Irene & Dexter Moxham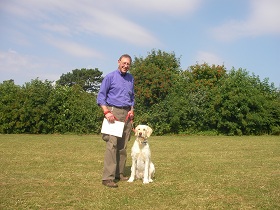 Dexter is 2 and a half years old and has been part of our family for 18 months. As a pup he was returned to his breeder at 8 months old as his attachment to his previous lady owner caused great jealousy from her husband.

From a loving owner back to a competitive kennel life, this badly affected his behaviour as did his apparent mistreatment that revealed itself by certain of his reactions to some everyday situations. To say that he was aggressive towards other dogs and hadn't a clue with regard to acceptable behaviour is an understatement. Pushing the boundaries was his favourite pass time

Then I was put in touch with Jenkins Canine Services where I was taught how to communicate with and to trust and understand Dexter. Within 6 months he and our relationship had changed beyond recognition.

He has now passed both his Bronze and Silver Kennel Club Certificates and, so it is said, could go for Gold!

Although he is still work inprogress I could not ask for a more sociable and well-balanced friend who is a total pleasure to be with both in the home and out on and off lead walks with other dogs. I am convinced that if we had not found Jenkins Canine Services, then Dexter would have found himself back to his breeding kennel and all the unhappiness that he experienced there!

Thank You Sarah and Colleagues who have made this all possible.

Jenkins Canine Services," Where Every Dog Matters" just like it says on the van!
Lesley Atkinson & Daisy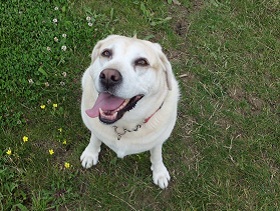 My golden lab., Daisy, and I think it was our lucky day when we bumped into Sarah by chance about a year ago. I'd only just got Daisy and although 4 years old, she lacked confidence. Sarah explained about her School Bus scheme and Daisy started 'school' a couple of weeks later. From then on, we've never looked back.

Daisy gets picked up at about 7:45am from home in Ramsgate and on a Tuesday (the day I am at my mum's in Whitstable), she is dropped back there to me, late afternoon. If I alter my plans, Jenkins Canine Services are only too pleased to help me out.

Although, as Sarah put it, on Daisy's first day "…the new girl Daisy is very shy…" she now has so much more confidence and loves meeting and playing with other dogs. She really looks forward to her days at school and when she goes off, I am happy in the knowledge that she is happy.

I like to think that Daisy goes off to school "clean and tidy" and she always comes home in the same state. I know that this is thanks to the many hours which have been spent after she's rolled in a muddy puddle or dived into a dirty ditch – all great fun when you're a lab!

I love Daisy to bits and wouldn't let just anyone take her out for the day, but I know when she goes off to Jenkins Canine Services, she'll be well and lovingly looked after and she'll come home a bit hungry, quite tired, but very happy and contented ….. can you hear her snoring??
Hannah and James Guy & Rocket and Truffles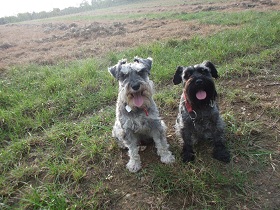 We have two miniature schnauzer, they are both great characters and are cherished pets (Truffles & Rocket). Our youngest dog Rocket has always shown fear towards other dogs, Sarah and her team has changed Rockets ability to enjoy life! Since attending Jenkins Canine Services we have been able to let Rocket socialise with other dogs and enjoy walks with our dogs. Sarah has taught us so much, whilst having fun; I think the owners have just as much fun as the dog!

The real testimonial is that the fact both dogs love Sarah and the team, and are so excited when we attend training or they get picked up for their fun day on the school bus!

The school bus is great for Truffles and Rocket, they socialise with other dogs and we can go to work knowing they are in the safe hands of Sarah and her outstanding team. There are no other people we would trust our dogs with, and we know the team are all so caring and dedicated. Jenkins canines are not just another dog walking service; they work on training the dogs for a happier dog and owner!

What we love about Jenkins canine services is that you never feel embarrassed about your naughty dog, because Sarah is understanding and patient, she works with every owner and offers individual advice, and you can really see the benefits!

We would recommend Jenkins canine Services to all dog owners, as we have great fun with like-minded people and the dogs and the owners learn so much!

Hannah, James, Truffles and Rocket
Tracey Wainwright & Archie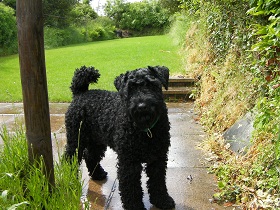 I got Archie as an unwanted 10 month old Kerry Blue Terrier. He had been kept in a kennel and had not been socialised, which for Kerry Blues, can lead to dog aggression.I had tried two other trainers before coming to Sarah andwhilst one had helped with obedience, we never really made any great progress to change his behaviour with other dogs. He was really difficult to walk and if he saw another dog, I spent a lot of time hiding behind cars!

Since we have joined Sarah's classes and Archie has been going out on the School Bus, I have a new and improved Archie! He still has the same bubbly personality, but the improvement in his behaviour around other dogs has been unbelievable.

As we continue with classes, my confidence continues to grow and walking Archie is now so much easier. He is now a less stressed and much happier dog.

I believe that Sarah's Training and the School Bus have improved both Archie and my life.