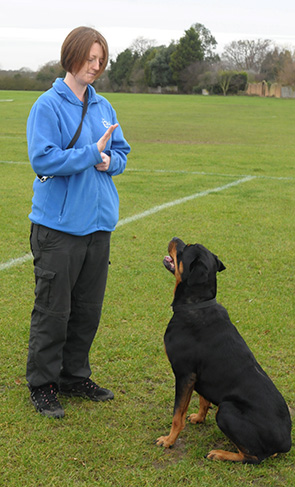 The Managing Director, Sarah Jenkins, is a qualified Canine Behavioural Advisor and Trainer with over fifteen years' experience working with dogs.
Sarah started her career in March 2000 when she worked for the Lord Whiskey Animal Sanctuary as a Kennel Assistant.  Her duties included the animal husbandry and welfare of all the rescue and boarding dogs within her care.  Sarah, within a very short space of time, became the Head Kennel person and was then responsible for evaluating and assisting in the process of re-homing the rescue dogs at the sanctuary.
In March 2003, Sarah took the first step towards a new career with the Broadway Veterinary Centre as a Trainee Dog Trainer. This was the beginning of a long, but extremely enjoyable journey to becoming a Canine Behavioural Advisor and Trainer. Her duties included all of the administration and teaching on the Kennel Club Good Citizen Scheme Courses, observing and assisting in Behavioural Home Visits and conducting one-to-one training.
Her apprenticeship continued with acqusition of Handling Skills, in a practical role, working with as many different breeds of dog as possible.
In 2006, Sarah took the next step in her career and started working for an established dog training company as their Canine Development Officer. Her responsiblities included behavioural home visits, private one-to-one training and assisting with agility classes.  Sarah was also the Head Trainer leading a team of volunteers teaching the Kennel Club Good Citizen Scheme courses. In 2007, the company diversified their business and began to offer a range of dog walking and pet sitting services. Sarah became the Managing Director of  this arm of the company and was responsible for its day-to-day running, including dog walking, training, administration and being responsible for a team of employees.
Sarah has used all of these experiences to gain the knowledge required to receive her accreditation and became a Member of the British Institute of Professional Dog Trainers, enabling her to start her own business - Jenkins Canine Services.
Working alongside Sarah is a team of experienced, dedicated and reliable individuals. The team will always put the welfare and needs of your dog first.  Whether you are joining one of our Kennel Club courses or signing up to one of our dog walking programmes you will meet our team members along the way.
We also have a team of volunteers who will be at the Training Classes to assist you and your dog.